The International Baccalaureate (IB) Learner Profile describes a broad range of human capacities and responsibilities that go beyond academic success. The IB Program aims to develop learners who are: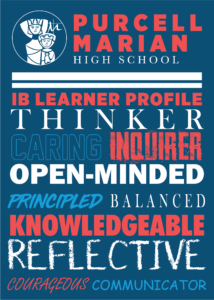 Purcell Marian believes every student should develop these important attributes. These are the Characteristics of a Cavalier and IB Learner:
Asks questions until they find answers.

Cares about what happens at home and throughout the world.
Seeks the truth.
Shares their own story and listens to what others have to say.

Seeks justice and has the courage to take action when necessary.

Celebrates their roots, while appreciating the values and traditions of people from different backgrounds and cultures.
Is willing to step outside of their comfort zone and take risks to explore new concepts.
Takes time to think, reflect, and evaluate before acting.
Understands that we are called to serve and make a difference in the world.

Maintains satisfactory academic progress with a consistent grade point average.
In order to be a full diploma candidate, a student must successfully meet the expectations of a diploma candidate outlined and maintained by the IB Organization including:
 Each of the IB's programs is committed to the development of students according to the IB learner profile and the Characteristics of a Cavalier.