2020-21 Second Quarter Honor Roll
February 8, 2021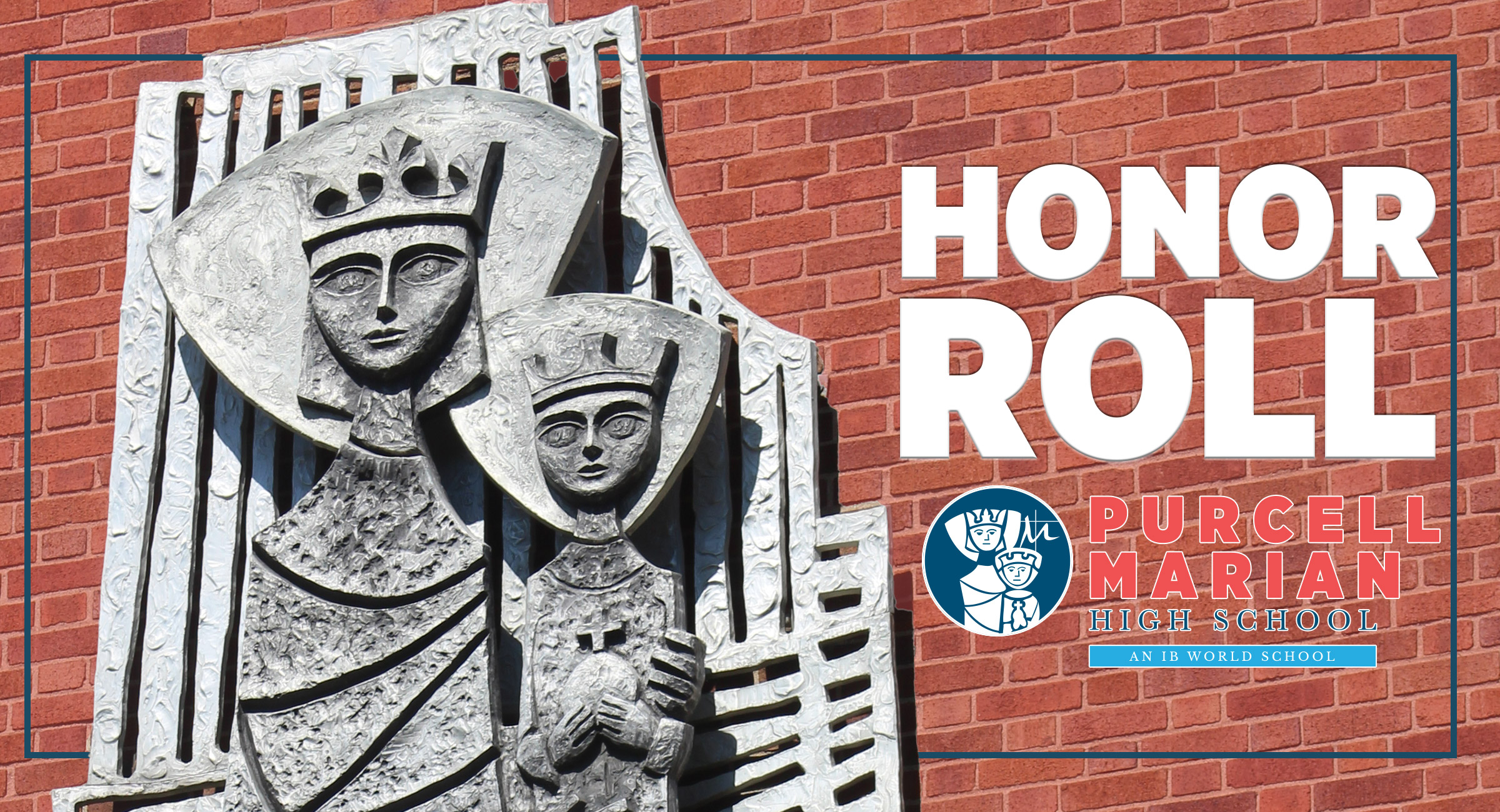 At the end of each quarter, Purcell Marian releases an honor roll to celebrate our students' academic achievement.  Purcell Marian calculates the honor roll using the student's unweighted GPA for that term (quarter). There are three categories of honor roll:
Dean's List
Students have an unweighted GPA of 3.67 or higher and take at least three honors-level courses or two international baccalaureate classes.  Students may have no grade below 70%.
First Honors
Students have an unweighted GPA of 3.67 or above and no grade below 70%, incomplete, or unsatisfactory grades.
Second Honors
Students have an unweighted GPA of 3.34 or above and no grade below 70%, incomplete, or unsatisfactory grades.
Jump to: Class of 2021 | Class of 2022 | Class of 2023 | Class of 2024
Class of 2021
DEAN'S LIST
Cheyanne Brown
Trinity Cole
Olivia Couch
Christina Dean
Alicia Jimmar
Caitlin Jimmar
Abbigale Kabel
Kara King
Isabella Madison
Isaac Mendoza-Sanchez
Kennedy Penn
Marion Pope
Samiah Rembert
JaNiyah Rice
Damien Schnuck
Darnae' Simmons
Isaiah Smiley
Camryn Stone

Catherine Stuebbe

Jeremiah Williams
FIRST HONORS
Nylah Anderson
Rodney Carter
Sarah Castleman
Eric Conn
Dustin Davis
Sahyahnah Davis
Eric Dugger
Madilyn Ferguson
Andrew Foster
Daniel Foy
Zachary Hoover
Justin Hughes
Alliah Hurdle
Kamya Jackson
Jaimon'e Jones
Caitlyn Raines
SECOND HONORS
Kendall Fields
Daniel Levine
Manuel Mercado
Isabella Mogg
Andrew Norton
Tia Nurredin
Class of 2022
DEAN'S LIST
Jacob Badinghaus
Brandon Dixon
Josephine Gerrard
Leo Hennegan
Kayla Keith
John Mumper
FIRST HONORS
Jermyrha Behanan
Alexander Bock
Thomas Bock
Amirah Brightwell
Samuel Duccilli
Jalyn Edwards
Morgan England
Irene Goumballe
Asia Howard
Zaire Ingram
Greta Klusmeyer
Andy Matias Miguel
Logan Nash
Abigail Preece
Julian Pruitt
Zaire Reynolds
Lindy Reynoso
Jaysean Sherman
Jayden Small
Bianca Swan
Taryn Walker
Jazzmyne Wood
SECOND HONORS
Odell Bonner
Hallie Brown
Francisco Carrillo-Valdes
Briasia Conners
Jaden Irvin
Ximena Longinos-Mondragon
Dawann Lucus
NaSean Murray
Jason Redd
Da'Monee Shelton
Isaac Wilson
Jayden Winston
Class of 2023
DEAN'S LIST
Angel Anderson
Gretchen Busemeyer
Nicohl Dicks
Ethan Ell
Eijah Evans
Zavier Hoover
Natalie Huff
I'Shon Jeffries
Malakai Jones
Laron Kyles
Sarah Parchman
Ke'Shya Patterson
Leslie Ramirez
Nubia Ramirez-Sanchez
Destiny Reid
FIRST HONORS
Zahkyrah Cooper
William Godsey
Carlos Guttman
Jaiden Hughes
Zyan Lewis
Amaree Lovette
Connor Parks
Verniyah Powell
De'Aira Reed
Yureysi Sanchez Matus
Raegan Styles
Marlee Williams
Zionna Wilson
SECOND HONORS
Summer Booth
Jaydn Davis
Taneyá Fields
Remington Grant
Masen Hendricks
Amiya Mason
Ion Nuby
London Shaw
Rayana Thomas
Derryck Williams
CLASS OF 2024
DEAN'S LIST
Ismael Espinoza Calderon
Chad Mumper
Eyn Phillips
Emma Meyer
Ayden Russell
Luke Schomaker
Natalie Williams
FIRST HONORS
Nyierra Bradley
Caleb Collier
Zoë Enoch
Rachel Farfsing
Kira Gibson
Jahere Gillium
Juan Guttman
Allijah Hurdle
Madison Long
Michael Manuel
Marily Matias Aguilar
Dasean Mckenzie
Jayda Mosley
Angelina Olinger
Wathel Phillips
Jayden Pope
Richard Rone
Annika Sandman
Kathleen Slamkowski
Nia Trammer
Makayla Walls
Sharkita Willis
SECOND HONORS
Ke'Azia Anderson
Mychael Howard
Micah Irby
Ah'niyah Jones
Makayla Maddox
Krew Mills
Yareni Perez Martinez
Kiyvona Robinson
Tyler Rude
Casey Sewall
Levi Smiley
Kamaya Stanley
Christopher Cortez Williams, Jr.