"We're hiding in the underground. The sounds of explosions and shooting do not allow us to relax. There's no internet connection in the underground, so I check WhatsApp when I can get to the entrance."
That was the message Bob Herring '68, received Friday morning from a School #116 teacher as they took shelter in Kharkiv, Ukraine, during the early moments of Russia's invasion of their country. Herring is Purcell Marian's Director of International Baccalaureate + Global Programs and the President of the Cincinnati-Kharkiv Sister City Partnership.
Purcell Marian's partnership with School #116 bloomed during a 2019 Sister City gathering in Kharkiv. Mr. Herring met with #116 administrators and proposed a student exchange program between the schools. 
"The collaboration with School #116 was to have been an opportunity for the American and Ukrainian students to build bridges of understanding. We looked forward to visiting Kharkiv and hosting the Ukrainian students on Hackberry," said Herring.
Students from Pu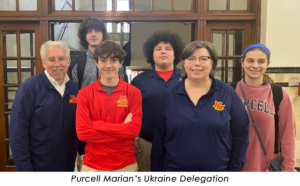 rcell Marian were preparing to leave for Kharkiv in March 2020, when the COVID-19 pandemic forced the cancellation of the trip just four days before their scheduled departure. Students from #116 would have visited PM in April 2020 and anticipated participating in this year's inaugural Purcell Marian's International High School Fair, highlighting student art and essays reflecting their country's culture. 
Additionally, Mrs. Maggie Zolides's IB History class students were preparing for a video call with #116 students in the spring. 
"My IB Year 2 seniors have been very interested in the developing situation in Ukraine, especially with our class focus being the Move to Global War. They were especially curious about the conflicting stories they heard on the news and deciphering what was true. They were looking forward to talking with students to get a sense of what was really happening for the people living there." said Zolides.
It is unclear what kind of assistance can make it to Ukraine at the moment. Still, Purcell Marian students will spend Lent attempting to provide any aid possible to support students with whom they were hoping to connect.
"We want to make sure that the support we give ends up in Kharkiv. It's questionable whether funds will be detoured if we send them," said Herring.
The PM National Honor Society is partnering with Matthew 25 Ministries to collect personal care items and first aid supplies for Ukrainian refugees. Monetary fundraisers throughout Lent will be donated to the Cincinnati-Kharkiv Sister City Partnership to assist Kharkiv in rebuilding after the war.
Throughout Lent, students will learn about Cincinnati and Purcell Marian's connection to Kharkiv, why the conflict is happening, and how they can continue to help and live out the Marianist charism of service, justice, and peace.