By: Mr. Bob Herring
A PEEK INTO IB Chemistry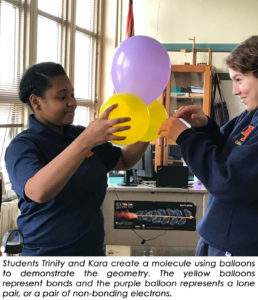 IB Chemistry
is one of the 6 subjects offered at Purcell Marian. Through a combination of short-term and long-term experiments and investigations, students will develop an understanding of the chemical principles that form the foundation for the physical environment in which we live and all biological systems. It's the bridge that connects biology and physics.
This is PM's first year to offer IB chemistry. Students were surprised at the rigor of the class. "Most of the information that we are learning is college-level material" observed one of the juniors. Those who score five or higher out of a possible seven will earn 10-semester credits at the University of Cincinnati.
The expectation is that they take a risk in the investigations, sparking interest in further exploring the following topics:
chemical reactions
chemistry in relation to space and the human body
chemical improvements for agriculture and food production
the role chemistry plays in the medical field
chemistry in water (oceans, rivers, ponds)
The challenging part of IB chemistry, according to the students is "understanding the com
plexity of new information" and the "large amount of math a lot of the work requires."
The Group 4 project is part of IB chemistry; it's a collaborative activity where students from the IB Chemistry and ACP Physics class work together. Students share concepts and perceptions from across disciplines. The emphasis is on interdisciplinary cooperation and the scientific processes.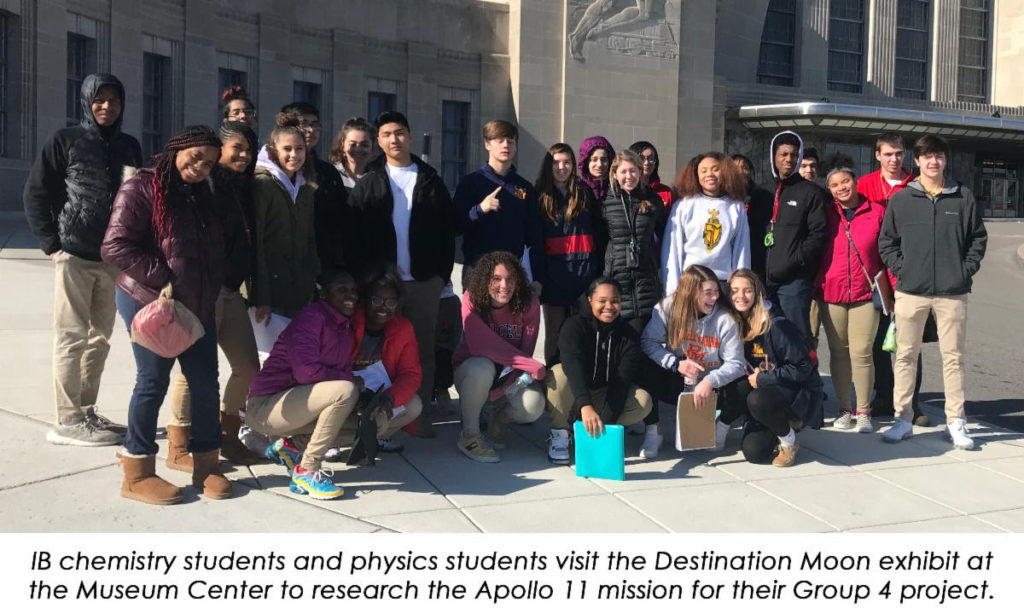 Empowered to dig deeper into an area of interest beyond the core, students get to choose an area of study in which they are interested: materials, biochemistry, energy or medicinal chemistry. Teacher
Ms. Jessica Boese
has been pleased with how well students are doing with the challenges presented by IB chemistry.
The students and Ms. Boese have some advice for freshmen and sophomores considering IB chemistry:
Never give up!
Ask questions, be courageous, take risks.
Think deeply. Go for understanding. Just memorizing things won't work.
Be prepared for a complex workload and to ask questions for why something is the way it is instead of simply memorizing.
Take your time and always take notes. It may be stressful at first but you'll get used to it.
Try it out and push yourself. Every class is going to have its challenges, but you can say that you overcame the obstacles instead of settling because you thought it was going to be too hard.
Be prepared to grow past the struggling.
A PEEK INTO IB Art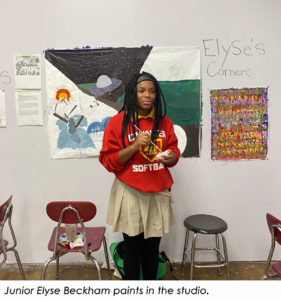 On any given morning at Purcell Marian, you will find our first cohort of IB art students hard at work in the IBart studio, a room they have transformed from a blank slate into a vibrant working space consisting of their individual stations along the walls. For art teacher Joey Versoza, the move from art classroom to art studio was essential for the IB art class: "IB really focuses on giving young people at a very vital point in their lives the time, space, and ability to examine and explore their identity — who they are and why." And students have eagerly taken ownership of the shared space. "Everyone's wall is everyone's personal space," explains student Oliver Carson, "and you get to see everyone's creative outlet."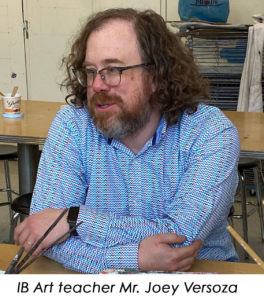 "In IB Art, students are given the opportunity to relate the experience and process of making art to all of the communal things that involves," says Mr. Versoza, "whether that's students having group critiques, or professionals from the art world coming and sharing their experiences."
Many students, when asked what surprised them most about the class, commented on the opportunities they've had to meet and have meaningful conversations with working artists. Last semester, Paige Williams, Dean of the Cincinnati Art Academy came in to discuss how to approach sketchbook work, sharing her own sketchbooks with the students.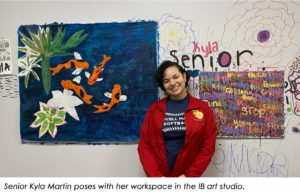 "Not worrying about how something looks right away was hard at first, because your instinct is to focus on what looks good," notes student Kyla Martin. In IB Art, students are
challenged to focus on process over product and encouraged to recognize their creative instincts and trust them, rather than relying on explicit instruction. In this way, IB Art students must take risks and be prepared to step out of their comfort zones. As Mr. Versoza puts it, "in this class, your decisions are to be yours and you are to share and discuss them with your peers." 
For students, the rewards of such risk-taking and independent thinking are great. This spring, students will share their work with the city of Cincinnati at their very own group show at the Clifton Cultural Arts Center. "I love seeing what I'm capable of," said one student, "I can't wait to see all the work we will have completed by the time our show goes up."