Virtual College Fair Recap + Financial Aid Info Night
October 9, 2020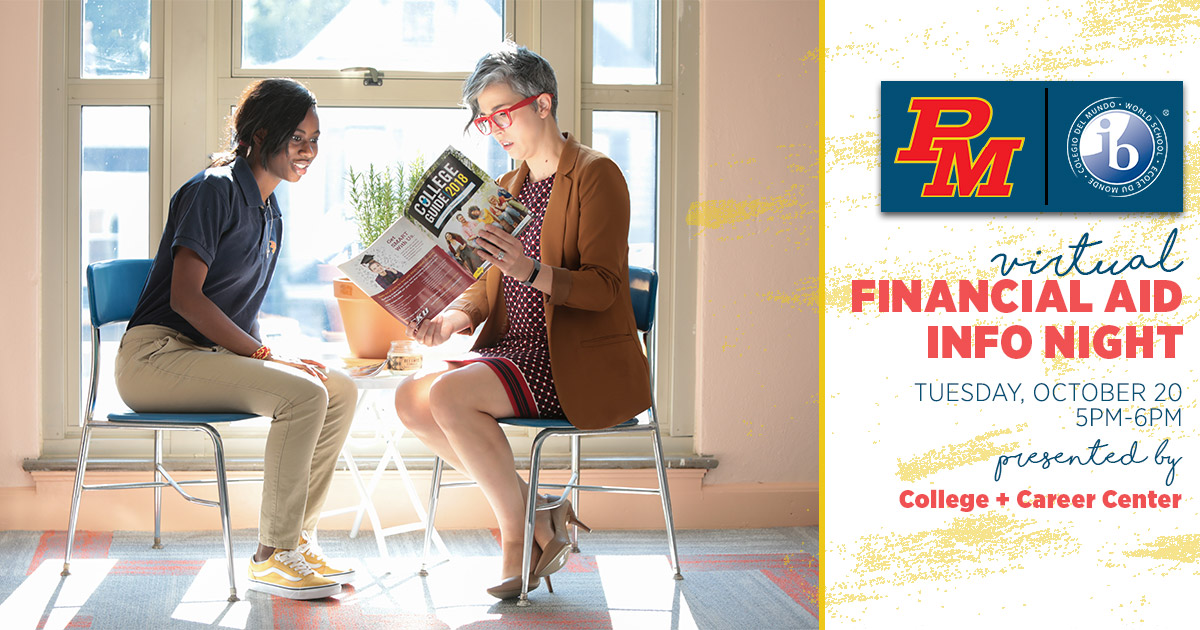 This week has been a very active week for our seniors in their College & Career Readiness class.  We have been putting final lessons regarding FSA-ID and FAFSA and giving our students some time and space to work on applications. We will soon move more into career pathway exploration and soft skill development. Before we do that, this past Thursday and Friday, all of our seniors participated in a "virtual college fair" conducted through our partnership with Michael Griffin and Devonshire Smith, Diversity & Education Solutions.  Our students had direct access to over 90 colleges and universities.  Students could hear what these schools had to offer, and they were then allowed to apply to these schools with no application fees. It was a fantastic opportunity, and many of our students made the most of it.  
Any Junior or Senior parent who missed the first Financial Aid Information nights will have another opportunity to learn this info on October 20th from 5 pm-6 pm.  We will be using the Google Meet format, which you can access through your student's Google Classroom page for the College & Career Readiness class.  Please set aside some time this evening to learn about the college application process's ins and outs and how to make the most of the available financial aid opportunities.  As a reminder, we encourage all of our parents and students to work together to create their FSA-ID's, if they have not done so already, and to use those ID's to complete their FAFSA applications.  Almost all colleges and universities use the information from the FAFSA to determine a student's financial aid needs.  Your student will not have access to many university-sponsored scholarships if this form is not completed soon.  
Please join us for the last Financial Aid Information Night for Families of the semester from 5 pm-6 pm on Tuesday, October 20.
If your student is having any difficulties deciding on a career pathway, please do not hesitate to reach out to Chris Wilke at the College and Career Center.  We have put our seniors through many questionnaires and surveys to help them consider their strengths, as well as their work styles.  But, making sense of all of this information sometimes takes a little assistance.  We would welcome the opportunity to work with any family to help our seniors get a better idea of their best "next steps" in life.  
We want to encourage any junior student considering applying to a competitive or semi-competitive university to participate in taking the ACT this upcoming December 12th.  For many juniors, the December of their junior year is the time to begin this process of making your college application look as competitive as possible.  Please visit the school website for resources and information about the ACT and consider visiting act.org to register for the December test. Due to limitations on the number of students allowed at testing facilities due to COVID, the earlier you book your test, the better your chances of taking the test close to home.  Keep in mind, all juniors will be taking the ACT at Purcell Marian this coming February as part of the state of Ohio's high school graduation requirements.  Taking the test before the February date will give you and your student a chance to look at testing areas that need improvement. It will provide you with the time to engage in test preparation to help your students gain as many advantages as possible.  
Here is a helpful article that explains the different types of college application deadlines and lists deadlines for the top 50 national universities and the top 50 liberal arts colleges: