International Baccalaureate program's mission is to encourage student across the world to become active, compassionate, and lifelong learners who understand that other people, with their differences, can also be right.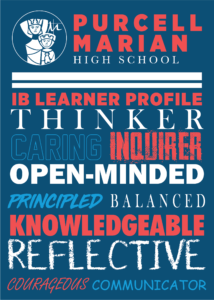 There are nearly 5,000 IB World Schools in 153 Countries. The IB program at Purcell Marian (expecting certification in November 2019) is one of only two programs in the Cincinnati region. Acceptance rates at top colleges is an average of 24% higher for those who participation in IB in high school.
The Diploma Program is for Juniors and Seniors and consists of seven (7) college-level classes. Students may be enrolled in an IB class, but not in the IB program.
IB programs develop internationally-minded people who, recognizing their common humanity and shared guardianship of the planet, help to create a better and more peaceful world.
The IB Learner Profile
What is an IB Diploma Program?
There are 3 Components:
#1 - Theory of Knowledge (TOK):
How do we know what we know?
A study of how cultural experiences and personal biases factor into what and how we know.
#2 - Creativity, Activity, and Service (CAS)
Provides a framework for experiential learning.
Students complete their own projects to further develop their habits of heart and mind.
#3 - Extended Essay
An in-depth 4,000-word investigative essay on a subject of the student's choice.
Students produce the type of writing expected of them on the post-secondary level.  
For more information, contact Bob Herring, Director of the Pre-International Baccalaureate** Program at rherring@purcellmarian.org.
**Purcell Marian High School is a candidate school* for the Diploma Programme. This school is pursuing authorization as an IB World School. IB World Schools share a common philosophy - a commitment to high-quality, challenging, international education- that we believe is important for our students. Only schools authorized by the IB Organization can offer any of its four academic programmes: the Primary Years Programme (PYP), the Middle Years Programme (MYP), the Diploma Programme (DP), or the Career-related Programme (CP). Candidate status gives no guarantee that authorization will be granted. For further information about the IB and its programmes, visit ibo.org. 
,