Purcell Marian Announces Class of 2023 Valedictorian and Co-Salutatorians
May 12, 2023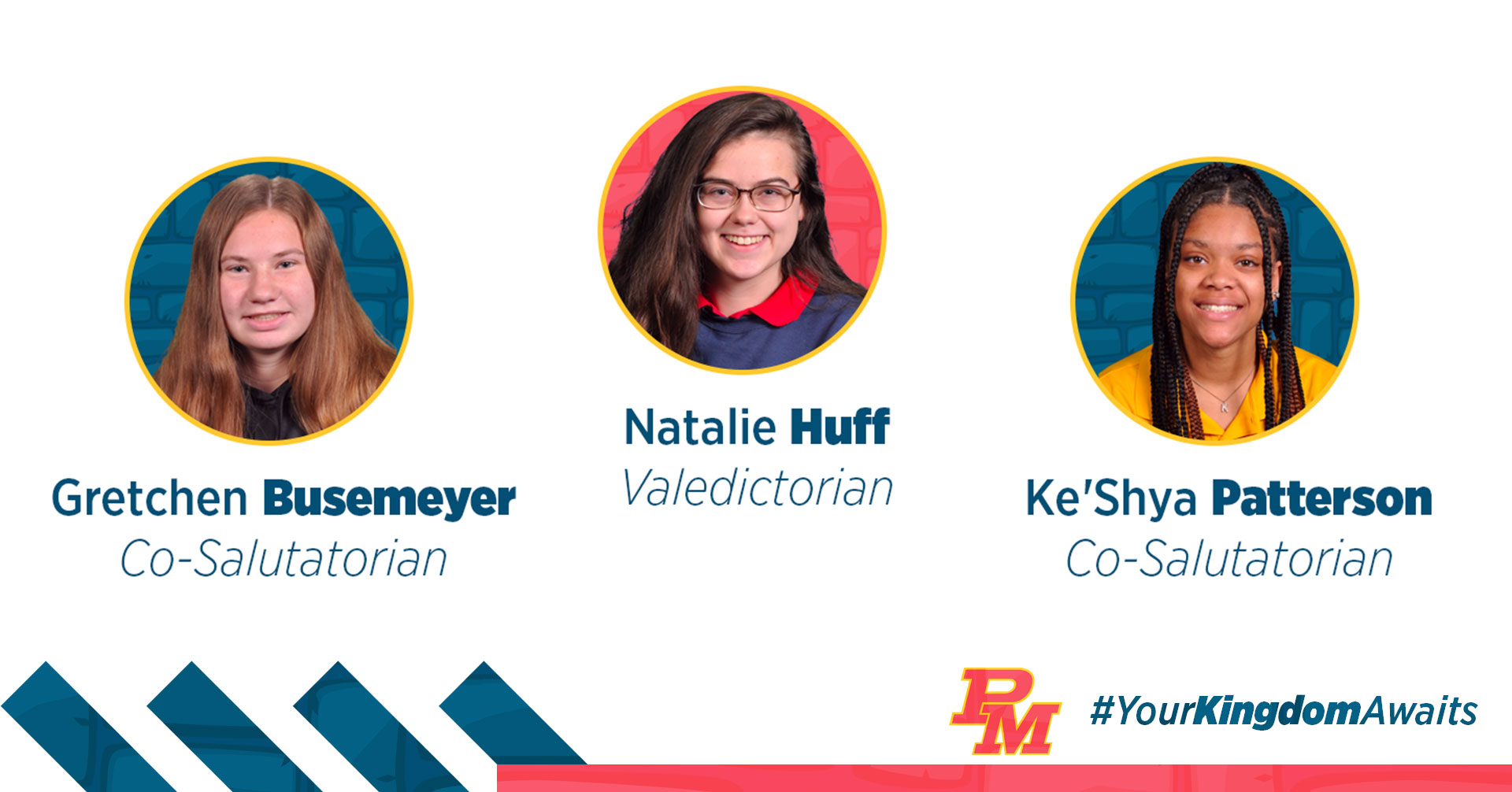 Purcell Marian High School proudly announces Natalie Huff as the valedictorian and Gretchen Busemeyer and Ke'Shya Patterson as co-salutatorians of the Class of 2023.
As a National Honor Society member and an honor graduate who made Dean's List or First Honors every quarter of high school, Natalie Huff demonstrated her dedication to academic excellence throughout her four years at Purcell Marian. She is a graduate of Cardinal Pacelli School in Mt. Lookout and will continue her studies at Morehead State University to pursue a degree in English.
Gretchen Busemeyer is an International Baccalaureate Diploma candidate and a National Honor Society member. She will study Civil Engineering at the University of Cincinnati. Gretchen is a graduate of St. Mary School in Hyde Park.
Ke'Shya Patterson is also a National Honor Society member and will graduate with the Hoxworth cord for participating in Hoxworth Blood Drives throughout her time at the Castle. Ke'Shya is a graduate of our East Walnut Hill neighbor, St. Francis De Sales School, and will study Psychology at Ohio State University.
Purcell Marian is proud of Natalie, Gretchen, and Ke'Shya's accomplishments, and we look forward to seeing their future achievements. They are shining examples of the Purcell Marian Cavalier family spirit. They embody the school's core values of being open-minded risk-takers and engaged global citizens eagerly pursuing knowledge and new experiences.
---
Purcell Marian High School is a Catholic co-ed high school in the Marianist tradition serving a diverse population of students since 1928. Partnering with the Society of Mary, Purcell Marian was founded to teach faith and prepare graduates for post-secondary professional opportunities in our ever-advancing world. Purcell Marian is an authorized International Baccalaureate World School, which challenges students to ask questions, think critically, and develop research skills to help them later in life. We measure our success on our 3E Guarantee, which guarantees all graduating seniors are either Employed, Enlisted, or Enrolled at the time of graduation.