Friends and Family of the Purcell Marian Community,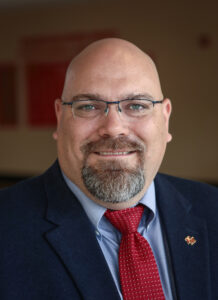 I am tremendously delighted with the support and energy surrounding Purcell Marian through the years. From being a student in the early 1990s to becoming Principal in 2017, the many blessings and miracle-like experiences I have witnessed are beyond words. Purcell Marian always has been and still very much is Outstanding Among All.

It is with much prayerful consideration that I have decided to step down from my role as Principal at the end of the 2023-2024 school year. With the grace and goodness of our God, and the work of many hands, Purcell Marian boldly stands filled with life, positive direction, and enjoys a rejuvenated alumni base committed to the future generations of Cavaliers. I would never choose to step aside if the school was not ready for me to do so. I am proud of the growth in enrollment with the largest freshman class in nearly twenty years, bringing the International Baccalaureate program to Purcell Marian and elevating our academics, the construction and completion of Staubach Stadium, and four state-titles in athletics.
Proudly, at the end of this school year, I leave the school in the hands of our dedicated teachers and staff who have served as the agents of positive change alongside me during my tenure as Principal. The growth and revitalization of Purcell Marian today has been because of this team. The timing of my announcement provides ample time for our Board of Trustees, led by Board Chair Rich Ehemann '83, along with a search committee of stakeholders, to recruit and identify the next Principal of Purcell Marian High School.
I am excited to be a part of the future of Purcell Marian, and remain the biggest supporter of the Castle.

With gratitude,
Andy Farfsing '95
Principal / CEO


---

A note from Board Chair Rich Ehemann,

On behalf of the Board of Trustees of Purcell Marian High School, Andy's contributions to Purcell Marian cannot be understated. The accomplishments he and his team have celebrated over the past seven years were pipe dreams when he was asked to return to Purcell Marian as Principal in 2017.

Today, those dreams are a reality, largely thanks to the leadership of Andy Farfsing. We are deeply thankful for his service to Purcell Marian, and his twenty-five years in Catholic education. The future is bright for Purcell Marian. We are excited about transitioning to the next chapter at the Castle. The strong foundation provided by Andy and his team will empower our next leader to continue the positive momentum.

Andy's continued leadership, over the remainder of this school year, in conjunction with a strong search committee which includes involvement from board members, faculty, and other stakeholders, ensures a smooth leadership transition for Purcell Marian High School.

Rich Ehemann '83
Board Chair