"Mark is a committed teacher of the game," Dowdy said. "He has been a respected high school coach in our region for over a decade. I look forward to working with him to mold our students into young men ready to contribute not just on the court, but in the classroom and the community."
"My goal is to see our kids mature into young men," Majick said. "I want to make the game enjoyable to fuel our player's passion for life and the game while instilling a discipline that creates positive results, individually and as a team.
Majick was m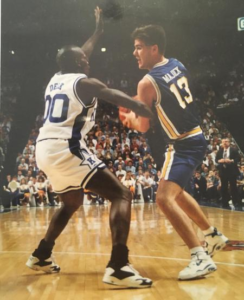 ost recently the Purcell Marian boy's basketball associate head coach and the head freshman coach for the past two seasons, his second stint at Purcell Marian. He spent the previous ten seasons as a varsity assistant at St. Xavier High School, McNicholas High School, and New Richmond High School, in addition to his first coaching stop at Purcell Marian from 2013-2014.
Majick is a 1996 graduate of Morehead State University, where he was a three-year basketball letter winner. He played in 82 games at Morehead State, averaging 10.6 points per game over his career. He was the Eagles captain as a senior. Majick began his collegiate career at the United State Naval Academy, where set a freshman school record for three-pointers in a season (61) and was named to the Patriot League All-freshman team.
He graduated from Youngstown Liberty High School in 1991. Majick received All-State recognition his junior and senior year and was a key contributor when Liberty was the 1990 Division III State Runner-Up.
In addition to his coaching duties, Majick has been an educational specialist at Purcell Marian since 2013. He is married to his wife, Kimberly Majick. He has three children, Leighton, Elijah, and Sydney.
About Purcell Marian High School
Purcell Marian High School (PM) is an authorized International Baccalaureate World School offering the IB Diploma and the only private, Catholic high school in the Greater Cincinnati region with this distinction. For more than 90 years, PM has served a diverse population of students. Founded on the faithful charisms of The Marianists in 1928 in the historic, vibrant neighborhood of East Walnut Hills, the Purcell Marian family of schools includes St. Mary, Marian, Regina, Purcell, and Purcell Marian High Schools, with 15,000+ alumni. Led by PM Alumnus Principal Andy Farfsing, Purcell Marian is centered on inclusion and preparing graduates for post-secondary opportunities globally. Purcell Marian measures success on a 3E Guarantee, which guarantees all graduating seniors are either Employed, Enlisted, or Enrolled at the time of graduation. For more information, visit purcellmarian.org.
###
Connect with us on social media: